Limo Service Bakersfield
Check out Bakersfield Limousine events page for your next stress free special occasion in Bakersfield, CA!
Weddings, wine tours, and bar hopping are just a few of the events Bakersfield Limousine & Party Bus Rental provides service for. When we say we will service any event, we mean it! We believe that nothing can top off a party or night out like traveling in style on a luxury Party Bus, Charter Bus or Limousine! When you rent a vehicle from Bakersfield, CA Party Bus, which we call our "night clubs on wheels," you're sure to enjoy a worry-free partying trip. No traffic, no endless searches for parking, no worrying about who's driving who - just 100% worry free fun with all of your friends on a luxury party bus or limo. And we cannot stress that while in our Bakersfield limousine reliable luxury transportation the top service Bakersfield has to offer, our service is absolutely essential. So many things to see and do in Bakersfield and we know for certain that you are not going to want to miss destinations like Buck Owens' Crystal Palace, the Kern County Museum, the Gaslight Melodrama Theater and Music Hall and the Kern River Parkway Trail just to name a few. But unless you ride in our fleet luxury transportation vehicles, your experiences will not be on the high level that we can make them. We want to see a smile on your face from the time you start your adventures with Bakersfield Limousine Service from airport transportation, corporate events, business meetings, corporate retreat to birthday parties, bachelor & bachelorette parties, & concerts.
Our Bakersfield Limo Service has special vehicles were tailor made for any kind of event or plans that you have with competitive rates & great specials. When you step on board, you are not going to believe the amenities that we have installed for your fun and frivolity. One of the first things that you will notice are the phenomenal granite top bar areas with built-in coolers of ice to store your favorite libations. You will also love the luxurious wraparound seating which is perfect for catching up with friends. But there is much more. Our party buses have installed multiple HD flat screens TV's & DVD players plus a premium stereo system with subwoofers. Are you a dancer? Check out the exotic wood flooring setup specifically just for dancing and complete with a dancing pole. If Bakersfield Limousine Service doesn't sound like a party ride we really don't know what would in Kern County.
You are in the perfect place to find out all about our special service. We highly recommend that you peruse our entire website and learn all that you can about what we do. Have a notepad and pen with you as you read so that you can jot down any questions or concerns that might come up. When you feel that you have learned everything you can here, contact our customer service office. Bakersfield Limo Service is available 24/7 for convenience. Our customer service specialists are experts in what we do and they will be able to answer your questions and talk about the possibilities. One thing we can promise you is you will never be pressured into making any kind of decision. ALl we want to do is provide you with all of the information you are looking for. When you feel like you might like to take the next step, one of our friendly agents will be more than happy to talk you through our easy and painless booking process. So give us a call today or send us an email when you are ready to book your next Bakersfield, California Party Bus rental or to ask us any questions that you may have about special requests, contracts, or our general booking process. Whether you're looking for a party bus for any event or a classic limousine for a wedding or prom, we have what you need at prices you will love. So, that about sums everything up. We are ready to serve you when you need us. We look forward to hearing from you soon and to starting a long lasting Bakersfield Limo Service luxury transportation relationship.
5 Star Service
When you rent a Limo with us, you will not only receive a wonderful vehicle for your event, but also excellent service.
Affordable
Call us now and ask for a free quote. That is the best way you can check out how affordable our rentals are.
Best Experience In The Bakersfield Area
Professional Service
You get luxury service & limo services from our booking agents to our chauffeurs when you choose Bakersfield Limo Service.
Quality Limousines
We go great lengths to ensure excellent service from our drivers and both the conditions and features of our vehicles!
Great Party Limos
Our party buses & limo services are luxury transportation party limos and have the latest features & luxurious service!
24/7
You can call us anytime you have a question or want to book a rental.
State-Wide
We serve many cities in California. They are all listed on our service area page.
Satisfaction
Our customers always have nothing but compliments to say about our services.
Customer Support
In case you need help during the service, you can call us, and we will solve it.
Beautiful Limos

We have the best limos for weddings, birthday parties, anniversaries and bachelor/bachelorette parties. Discover them on our fleet page.
Amazing Party Buses

The Limo Buses you need for the party you have in mind! You and your friends will enjoy the party atmosphere they have.
Luxury Vehicles for All Events

Our vehicles are perfect for almost any event you can think of. They have an elegant exterior that suits formal events and features inside that are perfect for parties.
What makes us your best option?
There are many reasons why, but the top one is that we work hard to make you happy with each service.
Let's celebrate
You might be wondering why our company is the best in the luxury entertainment transportation industry. There are many reasons and many of them have to do with paying attention to the details which we are adamant about doing. The vehicles that we acquire are the best of the best party buses. And then we take them and we install some phenomenal features and amenities that will have you smiling and laughing during your entire experience. We also have certified mechanics on staff who regularly inspect and maintain our entire fleet in order to ensure each vehicle is always road worthy and ready to serve our customers. This means you will never have to worry about being stranded on the side of the road or have to miss your planned destinations. You might also be wondering about the conditions of our interiors. Don't worry, we hire professional detailers who painstakingly clean every inch of the inside of each vehicle between uses. When you step inside, everything will be so pristine that you are not going to believe it. Our drivers deserve a mention here as well. All of our drivers are certified and experienced and equipped with GPS which means that there will be no getting lost. Now you know why Bakersfield Limousine Service is the best.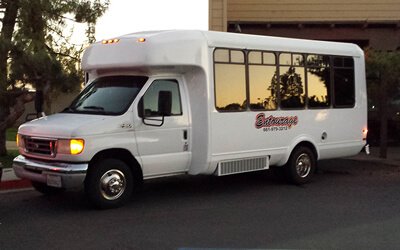 White Limo Bus
Spacious and luxurious, this bus is perfect for any night on the town!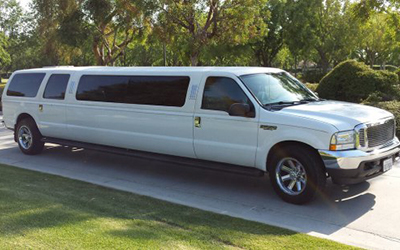 Excursion Limousine
Travel in style in this classy car with tinted windows and spacious seating.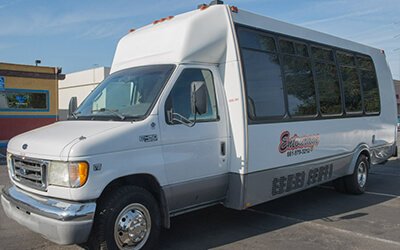 White Limo Bus
Bakersfield party bus rental luxury with an exotic interior & many amenities.
Reach out
We are ready to help you book your next limo rental. Just fill out the form below so we can better understand what you are looking for.